About the Eternal Faith Designs artist: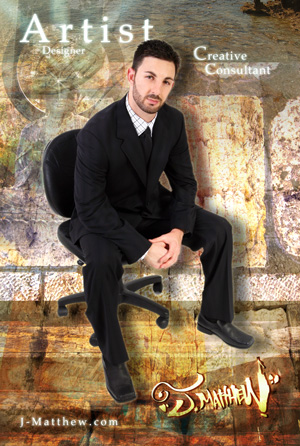 J-Matthew was born on a farm in Israel, just 20 minutes outside of Nazareth and right and over the hill from Cana. At the age of seven his family moved to South Florida, where his father was originally from. His Father was a proflic artist born and raised in North Miami Beach. His Mother was a born in Romania and raised in the holy land. She also had a strong appreciation for the arts and different cutures. Their first Son was born in 1979. He began drawing on the walls as soon as he could hold a crayon.
His career as a painter, illustrator, graphic & web designer, photographer, dj, and event producer started while still in High School. 1998-2003, he continued on to technical school, college and university pursuing studies in art and digital media. Around the same time, he began putting his talents to use making and selling T-Shirts, menswear and streetwear for the fashion industry with an internationally distributed brand. Creating artistic T-Shirt designs have been one of his favorite activites ever since.
Currently, his paintings and artwork are featured on season 6 of the hit Reality Television Show, "College Hill", he runs an internet marketing agency, an entertainment company, is a martial arts instructor and world traveler.
"I love having the opportunity for people to wear and appreciate my art. It's like legal Graffiti. And since we promote such a positive message, celebrities, friends and fans have all been very receptive. We really are blessed and I would like to show gratitude for those who have supported us from day one.We need all the love and good energy for motivation
" -  J-Matthew